This past week I had to take a business trip to Boston. Eager to explore beyond my usual shopping and dining time at the Pru, Copley, or along Newbury Street, I hit some Websites for roadside kitsch looking for a more adventurous experience. On Critiki, a site dedicated to tiki bars and restaurants, I found a listing for Kowloon in Saugus, just north of the city. So on Monday night, after my business meetings let out, I hailed a taxi and set off.
When we got to Saugus, we headed up Route 1, the historic route that connects Maine to Florida and provided a route for 20th century snowbirds to migrate, enjoying all manner of roadside attractions along the way. It was, for the East Coast, what Route 66 was for those traveling between the coasts. After a mile or two, my driver became worried and questioned whether I had the right place. Then we spotted it, looming up ahead, high on a hillside next to the highway. Did I say looming? I meant towering. A wide, tall A-frame building, its roofline edge-lit, and a twenty to thirty foot tall tiki god standing framed within it, above the front doors. Just seeing it, I got excited for the experience within.
Inside the front doors, you enter a lobby area that is more subdued than the exterior. They had the good sense to pace your experience by having the lobby temper your expectations. A hostess greeted me and escorted me into the main dining room, which is huge and has decor that divides it into several smaller rooms, all under a dusk-blue ceiling studded with recessed lights that feel like stars. Along one side is the Volcano Bay Room, with an expansive mural of a tropical island which rises at its middle to a volcano, complete with colored lighting providing a burst of lava, and a spreading cloud of ash. Adjacent to that area is a section partitioned by the low railing of a ship, complete with a ship's wheel, masts with sails, and lifeboats suspended from the ceiling.
The Tiki Lagoon is next to the Volcano Bay Room. The hostess seated me on the border between the two. There is a row of booths that have bamboo poles rising from their corners and supporting a thatched roof. Nearby, a large indoor pond with fountains is surrounded by volcanic rocks and tropical plants. Palm trees are everywhere. The outer walls of the room have booths with tiki masks.
I ordered my very first Mai Tai, as it seemed the most appropriate choice for the experience. I hope every Mai Tai is like this. It had a creamy consistency, sweet fruitiness followed by a slight bite of tanginess, and the perfect amount of rum to soften away a long day of traveling and meetings. [1]
While I had looked at the menu online before going, I wasn't really certain about what I was going to order. All I knew was that I wanted something with shrimp or possibly pork and some sweetness to it so probably including some tropical fruit. I had planned to ask my waiter for a recommendation. However, after he gave me the menu, I noticed that it had a page for Polynesian food and I quickly found an entry for Flaming Shrimp Ambrosia — a half-pineapple filled with batter-dipped, fried shrimp, smothered in a glaze of sweet-and-sour sauce, then doused in alcohol and lit on fire. When it arrived, it was an impressive sight, the flames standing a good six inches over it. They also plated it with a few shrimp off to one side, so that I could begin eating those while the main portion burned down. It was perfect. The shrimp was nice and tender, not overcooked. The sauce was sweet. The pineapple chunks and cherries were melt-in-your mouth good.
On my way out, I found that there was a small counter near the door selling mugs, glasses, T-shirts, and more. It was really hard to choose from the selection, but I bought a tiki mug, with the Kowloon logo on the back.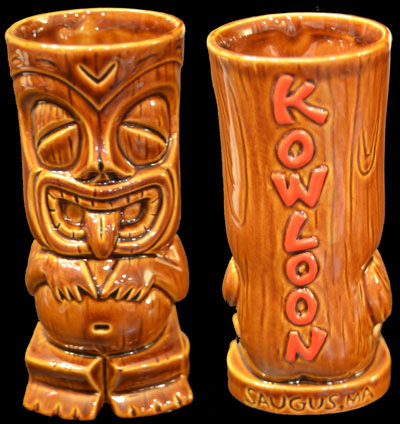 My only regret is that, as a solo traveler, my trip was over all too soon. Had I been with my family or a larger group, I am sure it would have taken a bit longer and I could have enjoyed the ambience even more. However, I do plan to return, hopefully with my family.
[1] Since writing this, I have learned that there are at least 11 different recipes for a Mai Tai, and I am now eager to find out which one Kowloon favors, since I enjoyed it so much.
Kowloon Restaurant Home Page
Kowloon, Saugus | Critiki